Today I'm linking up with the fantastic blogging duo
Jake
and
Holly
. Join in the fun!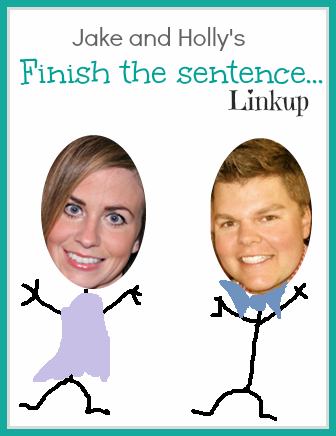 If I had one extra hour in the day...I'd make sure it was calorie free, as in all calories consumed were free and didn't count, and I would sprawl across my couch and eat every single chocolate chip cake cookie that I baked last night while watching my latest TV addiction.
I wish my name...wasn't one of the most popular baby names in the early 80's. I have SIX friends named Amy.
I think anything chevron is...fabulous! Dresses! Cups! Pens! File Folders! Curtains! Notepads!

Yikes...this could be a problem.
My last nightmare...was a nightmare in a nightmare. You know, like a dream in a dream. It involved chasing, a break-in, and something along the lines of Paranormial Activity. Not cool.
Sometimes...I like to lay on the livingroom floor and stare at the ceiling.

Is that weird?
My last meal on earth would be...not cooked by me. Seriously, I'm an awful cook.
I would much rather be wearing a rocking outfit on a bad day than wearing an outfit I feel "blah" in on a good day.
Mayonnaise...eh? Take it or leave it. I usually leave it.
10 years ago, I didn't think...I could possibly be patient enough for my adult life to begin. I should've hung on to my youth a little longer. Bills suck.
Selfishly...I would rather spend the "savings" money each month on new clothes/shoes/and spa days, but I won't

this time

.
My favorite show on TV right now...Pretty Wicked Moms, check that shizz out.
And, George Zimmerman...can't un-ring a bell and he and many others will have to live with the extremely poor choices of that day.
Enjoy your day!
I'm out!
Mrs. T