This looks like fun! I'm joining Jake and Holly for a Christmas edition of Finish the Sentence. If you'd like to join in, follow the link below.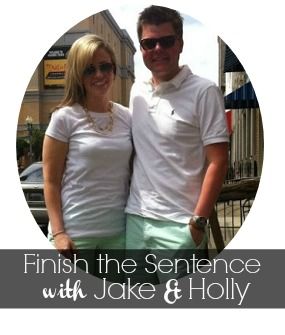 1. My favorite Christmas...will probably be this year. Billy is more aware of everything this year so I think this year will be the best so far!
2. The worst Christmas I had...was in 1996. The tradition was to go see my dad's parents on Christmas Eve. We'd eat, open gifts and watch Christmas movies. They both passed away in 1996. My nanny in August and my Papa in November. That was a weird Christmas and was hard for all of us. :(
3. That one gift that made me scratch my head and say, "Hmmmm" was...the re-gift to me of a Mary Kay hand and foot scrub set I gave to my mom for her birthday. I guess she didn't like it!
4. One year I....wanted a puppy. My dog had died a few months earlier and I was ready for a new one. Bill said he'd try to find one for me, but he made no promises. (This was when we were 21 and 23 and it was our FIRST Christmas together.) I searched and searched for one, but Bill would always say something and I'd leave empty handed. That Christmas Eve he surprised me with Tucker. :) That puppy is 8 years old now.
5. I think the worst gift to give is....anything on the prepackaged gift isle at Walmart. Let's be original folks.
6. At Christmastime I typically....freak out. It seems like there is never enough time to get everything done.
7. Typically, family Christmas...is my favorite. I love it when we're all together eating, laughing, and playing games. I love my family.
8. If I could change one thing about the Holiday season...it wouldn't be about the gifts.
9. It is so hard to buy for....my husband. He wants every new gadget, Xbox, tool, and corvette available. Money doesn't grow on trees dude. Usually whatever I do get him isn't the "right" one, so he takes it all back anyway.
10. My favorite Christmas tradition is...opening up new pjs on Christmas Eve. Everyone has something new to sleep in and we all look snazzy the next morning in our pictures.
11. Santa, baby, bring me a ...house of our own (not a rental anymore).
Thanks for reading!
I'm out!
Mrs. T